Building A Successful Business Is Easy When You Start From A Solid Foundation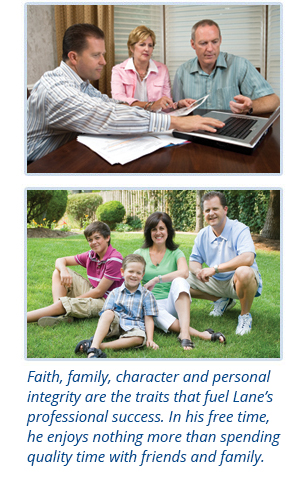 For most kids, the sound of the bell ringing at the end of the school day signaled the beginning of "play time." For Lane Miller, it was more like a whistle telling him he was due at his next job. You see, Lane was raised in Hillsboro, Oregon, and worked six days a week on a nearby farm. While his friends were off playing sports, Lane was driving tractors and plowing fields. But as a result, Lane had something the other kids his age didn't — he always had money in his pocket. He also had something even more valuable.
While the money was nice, the real benefit of those experiences was deeper than monetary, Lane says. "Working on the farm instilled in me an undying work ethic and the strong morals and values that come along with that lifestyle, all at a very young age. Not only was that job lucrative at the time, but it's proved even more valuable as I continue to call on those traits to this day."
Climbing The Ladder
After working on the farm all through high school, Lane took his strong work ethic to a stock room position at Nordstrom, where he valiantly worked his way up the corporate ladder. By the age of 21, he had earned a management position and was charged with being part of the team that took the company nationwide, a transfer that sent him to McLean, Virginia. He spent many years honing his business sense under the renowned "Nordstrom way" in a variety of buying and merchandising roles; his commitment to customer satisfaction was always his number one priority.
Giving Something Back
Today, Lane's commitment to his family and faith is constantly on display. Lane and his wife, Beth, have two children, always keeping them on the go. Lane is also deeply involved in his church, giving back however possible.
Another place where Lane is making a big impact is in his business as a leading Northern Virginia real estate professional. When you work with Lane toward the sale or purchase of a home, you can count on his strong work ethic to pursue your goals relentlessly. He believes in straight talk and will always let you know exactly where you stand. But more than anything, he approaches every transaction with a servant heart that makes the entire process a smooth and worry-free experience.
"I cherish the opportunity to be able to have an impact on my clients' lives in a meaningful way," Lane says. "I thrive on hearing people's objectives and then doing everything in my power to help turn their goals into reality."
Passion For Results. Concern For People.
If you're considering the sale or purchase of a home throughout Northern Virginia, turn to the professional with Passion for Results and a genuine Concern for People. That's Lane Miller. Give him a call today to schedule a private consultation.
Lane Miller proudly serves the real estate needs of residents in Prince William, Arlington, Fairfax, Loudoun counties & the Northern Virginia area.
"My success isn't measured by how many properties I sell. What's more important to me is being able to lend a helping a hand during such a significant part of my clients' lives. Few things are more meaningful to me than knowing that people have placed their trust in me to guide them in such an important financial and emotional process."
– Lane Miller